Your Existence Is Not Unlike My Own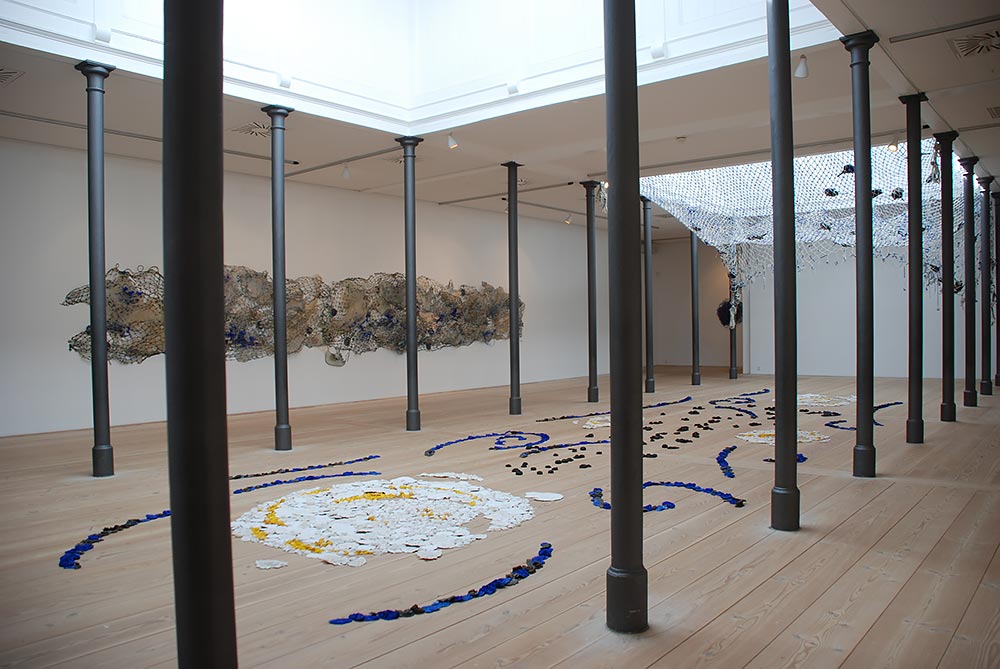 YOUR EXISTENCE IS NOT UNLIKE MY OWN 2010
SILKEBORG ART CENTER, DENMARK
Director Iben From
Joan Hall: Bodies of Water
by Jan Garden Castro
With its veils and nets of beautifully-wrought, mysterious and identifiable forms, Joan Hall's installation, Your Existence is Not Unlike My Own, immerses us in underwater environments afloat with such aqueous or bodily stuff as fishnets, cancer cells, horseshoe crabs, coral, and satellite images of hurricanes. The installation revolves around the complex relationship between human biological systems and the ocean's ecological systems. A myriad of images and forms suggests how much we don't know about our own planet or bodies. For example, even though the earth's surface is 70% water, water comprises only 3% of its mass. So it's an illusion that water is abundant; in fact, oceanographers are proving that sea beds are becoming increasingly shallow. Similarly, our bodies are over 55% water and cannot survive without it. And just as once-pristine oceans and are now filled with garbage accumulations twice the size of Texas, our bodies cannot last when foreign cells, such as cancer, multiply unchecked.
Artist Katharine Kuharic notes of this "collection of printed nets and digital prints on Mylar": "The formal activity is one of careful tracery and removal of sections outside the printed strands. This navigation of the edge of illusion is performed by means of a scalpel. This preservation frees the image to retake its role as trap. Its gesture, stretched and revelatory in its torn history, seems to embody the flow and heave of the ocean. The material, again a formal choice, is Mylar and suggests dredged and abused plastic, beach glass or even spittle."[1]
The forms comprising Your Existence is Not Unlike My Own are created using water, yet water is not present physically and instead is represented in symbolic ways. Paper itself becomes a metaphor for water – for preserving and reflecting and capturing the essence of water. For example, Hall's circular images of coral and delicately striated sea forms are accompanied by images of human cancer cells. These mutated cells are circular and blend in well with the sea-shapes. The artist asks us to pay attention to cellular formations – their correspondences and differences.
Hall works intuitively, layering her materials, colors and forms to startle our senses into awareness of the marine environment. Her blue-green to gray waters are codes for "living" to "dying" seas. In this series, she embeds nets and other images onto collagraphic plates and prints onto the surfaces of handmade gampi and kozo papers. She glues the 244 x 305 centimeters, (8 by 10ft.) sheets onto clear Mylar, and then cuts into the images using a scalpel to produce immersive environments alluding to nets in the deep seas. As Kuharic suggests, the use of a scalpel to excise areas has symbolic as well as aesthetic ramifications as does the use of Mylar, a plastic that represents a "problem" for the planet's digestive system. Some stenciled images in the printed nets are painted with paper pulp; others are digital. Hall's sculptures move, bend, float, swirl, and otherwise appear to be in motion. In fact, the paper seems too animated to repose on the wall.
The artist's printed, felted, and knotted fishnet, is based on nets which her friends found at seaports from Hawaii to Sullivan's Island, South Carolina, to Marathon Key, Florida, further transport viewers to Hall's underwater world. These felt nets are handmade, hand-knotted, and painted with paper pulp. As they surround us, we become the marine life. The artist recounts, "The nets are more than my metaphor of being caught up in a wave. The net also becomes water – and the force of water is also something more powerful than man. As the net waves across the wall, it also represents the idea of interconnectedness, as in Indira's net – the Buddhist view of a net spanning in every direction and encompassing nature and humankind. This extends even to human constructs such as the Internet."
Hall makes paper at the gut level. The fibers she uses vary from cotton to abaca, gampi, kozo, and flax. In addition to paper pulp with every possible hue, texture, and property, Hall has invented ways to paint, weave, cast, hand-form, print, cut, and otherwise give paper as many nuances as her subjects require. In her hands, the sea also becomes a metaphor – one infinitely larger than ourselves — for the fluids that pulse through us and sustain us.
Thanks, in part, to the artist's lifelong love of water sports and bodies of water, Hall has discovered disparate, surprising data. The horseshoe crab is one among the ocean's many inhabitants that helps save our lives. The crab is a sea creature whose blue blood is used to test for endotoxins –byproducts of bacteria that survive sterilization. Blue green algae may be the next treatment for cancer.
However, global warming and biohazards threaten ocean habitats and their nutrient-rich populations. In 2005, a record number of 27 hurricanes, one being Katrina, occurred in the Atlantic region. It was the hottest year since 1860. Hurricane intensity and devastation was linked to global warming by the Pew Center on Global Climate Change. The same year an article in the magazine Nature warned of the corrosive effects of ocean acidification on various marine organisms. In addition, studies have shown that plastic debris in the ocean has risen from none in 1900 to hundreds of millions of metric tons in 2000. Other studies link the swift decline of coral reefs to global warming, which causes coral to expel the algae living within it that provide the vivid colors and nutrients needed for coral to survive.
In sum, the seas and their by-products of food, air, water, and life-saving medicines are increasingly endangered by toxic waste, non-biodegradable garbage, and acid rain. It is only a short leap to realize that humans face the same toxins as the oceans; one small example of this is eating seafood exposed to mercury. Given the seriousness of the issues Hall addresses in Your Existence is Not Unlike My Own, it's amazing that she has managed to create a world of paper that has the tiniest carbon footprint possible and the most awe-inspiring aesthetic.
This body of work also has a personal side. Joan Hall downplays the fact that when she was diagnosed with cancer in 2005, and has sailed over 25,000 miles on the ocean. As we lose ourselves in the beauty of Hall's sea worlds, it may be hard to "read" all of her deep connections with nature, hard to "see" the dark portents that affect water bodies and humans. A joy comes from plunging in and searching for those keys to existence – the sea's and ours.
— Jan Garden Castro is a New York-based art historian and author.
[1] Katherine Kuharic, from "Points Beyond," essay for Joan Hall From Whence We Came, exhibition at Bruno David Gallery, September 7 – October 13, 2007, St. Louis MO.