Sea Of Heartbreak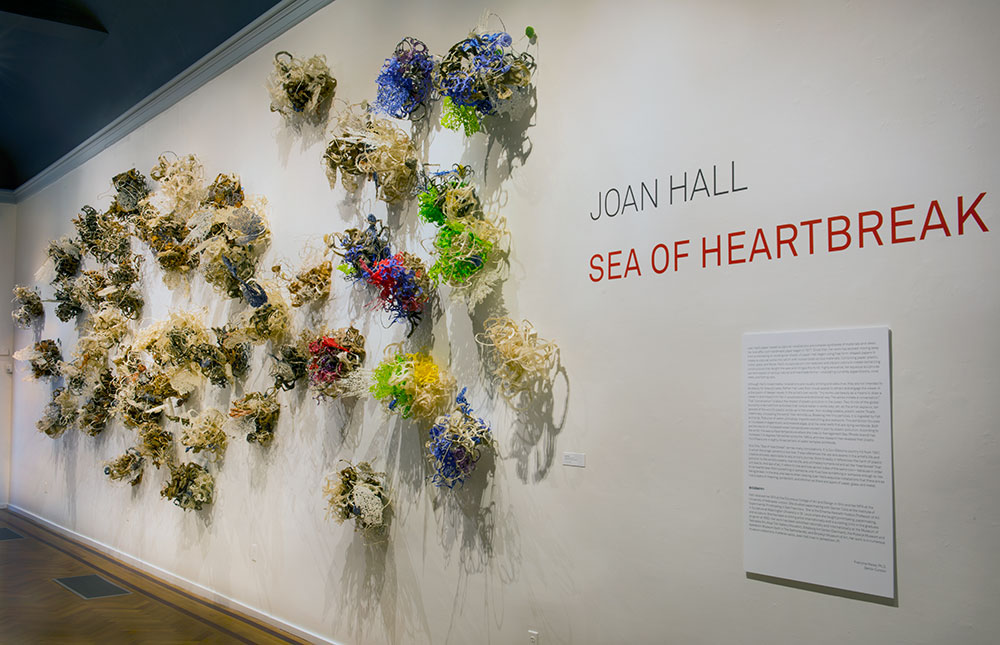 Joan Hall's paper-based sculptural installations are complex syntheses of materials and ideas. Joan Hall's love affair with handmade paper began in 1977. Since then, her work has evolved; moving away from printmaking on rectangular sheets of handmade paper, Hall began using free-form shaped papers to create sculptural works into which she incorporates various materials. In essence she has fulfilled her own stated desire to push paper "beyond what paper can do" leading some viewers to ask "Is that really paper?" Combining plastic, metal, glass, and Mylar with paper, Hall's sculptures join rich textures and vibrant colors to create tantalizing constructions that are highly evocative and reminiscent of various natural and manmade forms—undulating currents, algae blooms, coral reefs, and fishing nets.
Hall's mixed-media installations are visually striking and seductive, with an express purpose in mind. "My works use beauty as a means to draw a viewer in and impact him/her in a subversive and emotional way," states Hall. "The works initiate a conversation." Specifically, Hall is interested in highlighting the human footprint on nature, with a particular focus on plastic pollution in the ocean and its consequences. Water is of course essential for our survival. The human body is about seventy-five percent water. Two-thirds of the global economy is derived from activities that involve clean water resources in some way, yet as Hall explains, ten percent of the world's plastic winds up in the ocean. Water pollution ultimately impacts everything and everyone. Non-biodegradable plastic waste "floats indefinitely, circulating the world," Hall reminds us. It also breaks into tiny particles ingested by fish and birds. For "Sea of Heartbreak," Hall's stunning, large-scale works address increases in algae bloom and invasive algae, and refer to the coral reefs that are dying worldwide. Both are the result of increased ocean temperatures caused in part by plastic pollution. According to the artist, the sea surface temperature where she lives on Narragansett Bay, Rhode Island, has increased 3.6 degrees Fahrenheit since the 1960s, and new research has revealed that plastic microfibers are in eighty-three percent of water samples worldwide.
With water pollution as a core concern in her artwork, it is only natural that Hall would work in a medium that involves water. Dispersing a range of fibers in water, Hall forms her sculptures using abaca and cotton pulp. She makes large sheets of paper up to 8 x 10 feet using kozo and gampi fibers that are hand beaten. Hall works with overbeaten abaca as a liquid drawing medium. She also employs high-shrinkage flax pulp to coat wires and forms that she fashions from plastic. For some of her sculptural works, Hall creates shapes with overbeaten abaca that is colored with dry pigments and metal fibers that rust in the paper. "The rusted pulps change colors as they dry," describes Hall. "Oftentimes I am not quite sure what they will look like until they dry, much like printmaking where one really does not know what the end result is until it is pulled off the printing plate." The resulting, richly colored layers of paper in her sculptures are meant to evoke the experience of looking down into ocean water.
Hall is drawn to this tension between control and surrender. She has learned to wholeheartedly embrace the unpredictability of her medium and materials. As a title "Sea of Heartbreak" is taken from Don Gibson's country hit from 1961, in which the singer laments a lost love. For Hall, it references the ups and downs in an artist's life and creative process. More broadly, Hall uses the title to point out the harm of plastic pollution to the world's oceans, marine life, and ultimately humankind with all the resulting "heartbreak." And finally, it refers to love and loss as two sides of the same coin—because in order to be heartbroken, one must love something or someone enough to risk being broken. It is a bittersweet realization. When viewing Joan Hall's exquisite installations, one learns that in the many layers of paper, glass, and metal, we will find a vast ocean of meaning, symbolism, and emotion.
Francine Weiss, Ph. D
Senior Curator, Newport Museum of Art
Location: Newport Art Museum, Newport, RI