Waterfire Arts Center 2022
PLANET EARTH
THE ENVIRONMENT AND OUR FUTURE 2022
An Exhibition of Art and Science and Looking at the Beauty and Fragility of Our World
The earth is its beauty and majesty has long fascinated and inspired artists and scientists
of all cultures. Both use vision to understand the empirical facts of the real world-and use
imagery again to convey their ideas and conclusions. This exhibition presents over thirty
spectacular artworks by contemporary artists that expand upon the interconnected nature
of the world. It also includes historical artworks and photographs from several cultures
stretching across the continents and connections to this larger story of the discovery,
exploration and exploitation
The exhibition also includes the overview of the history of the climate crisis from the first
scientific observation in 1826 that foresaw the use of coal as a possible threat to mankind, up
to our newest efforts to solve the climate crisis, such as Rhode Island's national leadership in
offshore wind power.
The curatorial approach is not through the lens of art history, but rather (to better match its
subject) through the interconnected networks that become part of our perceptual ecology.
These hidden values, contexts, metaphors, and perspectives determine and frame each of our
understandings of our moral relation to the world and each other. The differences among
these many understandings complicate our conversations about the environment and make it
difficult to reach consensus on the best solutions.
The climate crisis is the greatest existential threat our species has ever faced, yet it is a crisis
Entirely of our own making. We know it is true and we know how to solve the problem, yet we
still struggle to build consensus toward taking action. This exhibition explores aspects of this
conundrum in the hopes that we can learn to better identify, discuss, and solve the challenges
facing us to find a just future for our planet.
The creativity of artists, the ingenuity of scientists and indeed the insights of the vast range of
many different cultural perspectives will be needed if we are to find our way forward. Just as
"overview effect" gave astronauts a new perspective of the fragile beauty and wholeness of our
Planet, the arts offer a window on new ways to better understand the interconnected
wholeness of our world and can thus rekindle our resolve to meet these challenges.
Barnaby Evans
Curator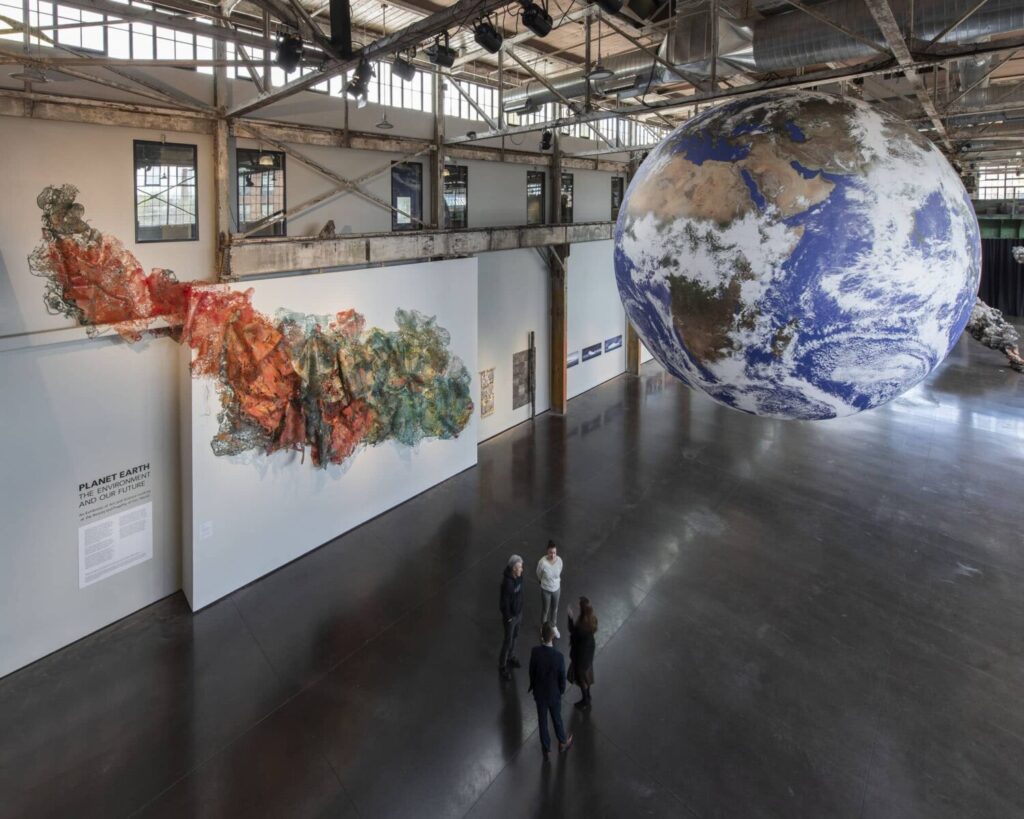 Algae Bloom-Waterfire Arts Center installation 2022
Installation Version 5 ( 50 sections)
20 feet x 38 feet x 24 inches
George Bouret Photographer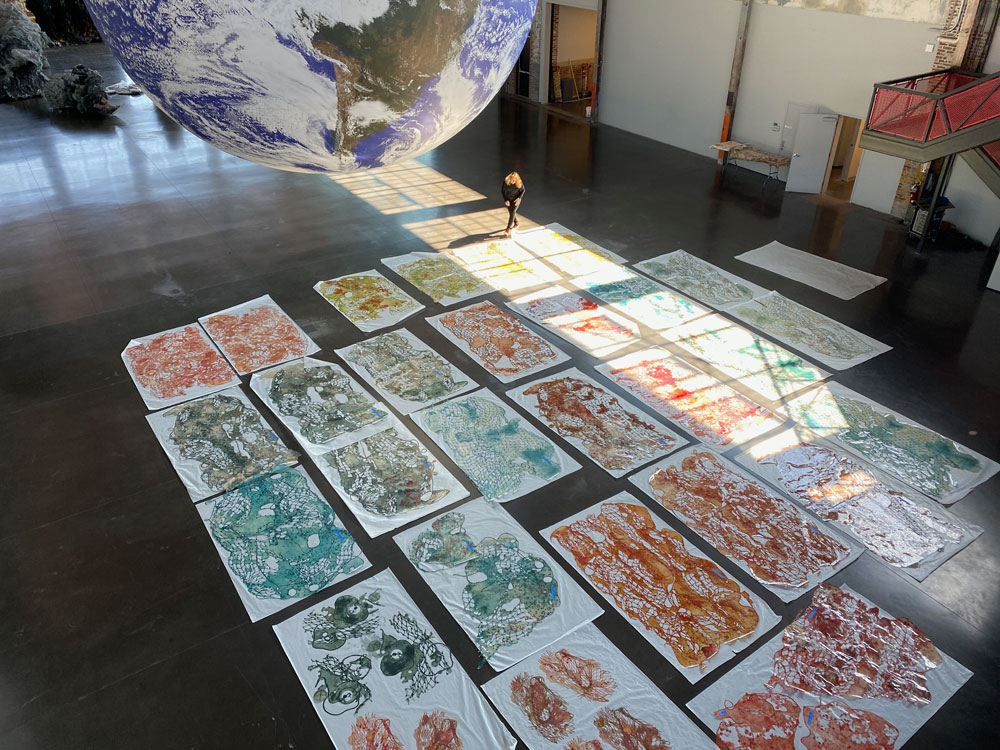 Where Light Dances:
On the Ocean and in My Memory
Childs Gallery, Boston, MA