Where Light Dances: On the Ocean and in My Memories,
Hall's mixed media sculptures and installations are inspired by her climate change advocacy and recent personal crisis, building a story explored through cause and effect, control and surrender, love and loss.
Hall's large-scale sculptural works emphasize the materials of handmade paper, glass and metal, and address her deep connection to and concern for the Earth's oceans. A lifelong sailor, Hall uses her art to promote marine advocacy through the lens of beauty.
From her home and studio in Jamestown, Rhode Island, Hall sees the effects of climate change firsthand-the increasing plastic pollution infesting waterways, the appearance of invasive algae, and the subsequent loss of native aquatic species, all of which disrupt delicate and vital ecosystems.
Hall confronts these threats head-on, incorporating plastics detritus found on local beaches into collagraph printing plates which impress haunting images of human waste onto handmade paper. Hall also uses vibrant pigments to color paper pulps used to paint under and over the printed plates. Her handmade papers are sculpted into undulating wave-like forms that are a beautiful but cautionary reminder of humankind's role in widespread oceanic pollution. Ultimately, Hall's goal is to initiate a conversation about the deterioration of our greatest resource-water, in the hope that her message yields positive change.
While the immersive works in Where Light Dances, express Hall's despair and hope concerning climate change, they also address recent personal grief after the loss of her husband, art historian and collector Mark S Weil. The exhibition connects global catastrophe and personal tragedy through works that resonate with both the artist and the audience. Ocean Library, is a sculpture constructed from handmade paper and sand, cast to resemble stacked books-Hall made the paper from Weil's cotton shirts and silk ties, and the sand was collected from beaches world over. The pieces comment on the finite nature of sand but also speaks to our limited time with loved ones. Sand and time slip through our fingers so quickly; they are fleeting and should be appreciated, treasured, and protected while able. The cast books are records of events past, both from a global perspective and Hall's own experiences.
Love, Loss Serenity, similarly confronts universal and personal crisis. The sculpture is made from images from a 1472 map of Rome included in Hall's husband's PhD thesis, along with plastic detritus, and hand-cut spiked forms representing endangered sea urchins. In its circular form, Love, Loss, Serenity, embodies the repetition of history, from the fall of ancient empires to inaction towards our current climate crisis. Beautifully frenzied in its orange and purple hues, the piece commands attention and introspection regarding death and its relation to us, our history, and the environment.
The exhibition title, Where Light Dances, is taken from Victoria Findlay's book Color: A Natural History of the Palette, referencing a passage detailing the author's childhood visit to Chartres Cathedral and the dazzling impression of its vivid stained glass. Hall's work similarly utilizes color and memory to craft a story global in scale and human in feeling, tackling ubiquitous truths and private hardships. Where Light Dances, weaves together hope for the future health of our oceans and optimism in the face of private grief, through Hall's organic and engaging paper forms.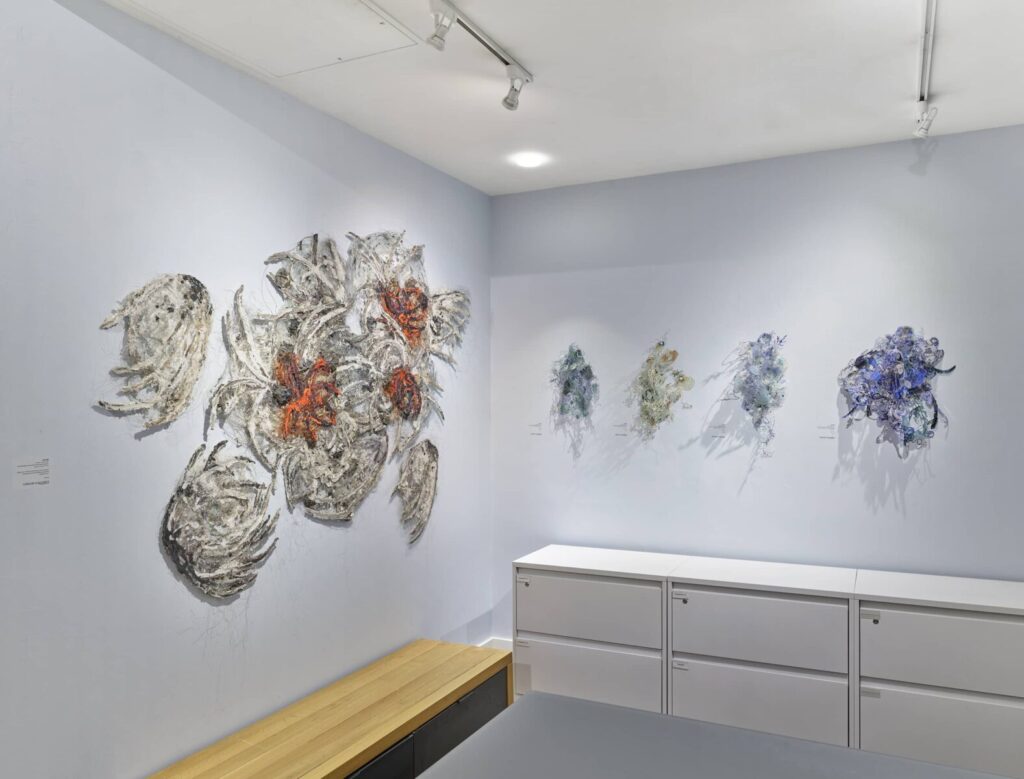 THE FOLLOWING IS A LINK TO THE VIDEO produced about the exhibition:
Kathryn Fields
Director, Childs Gallery