Lighthouse Beach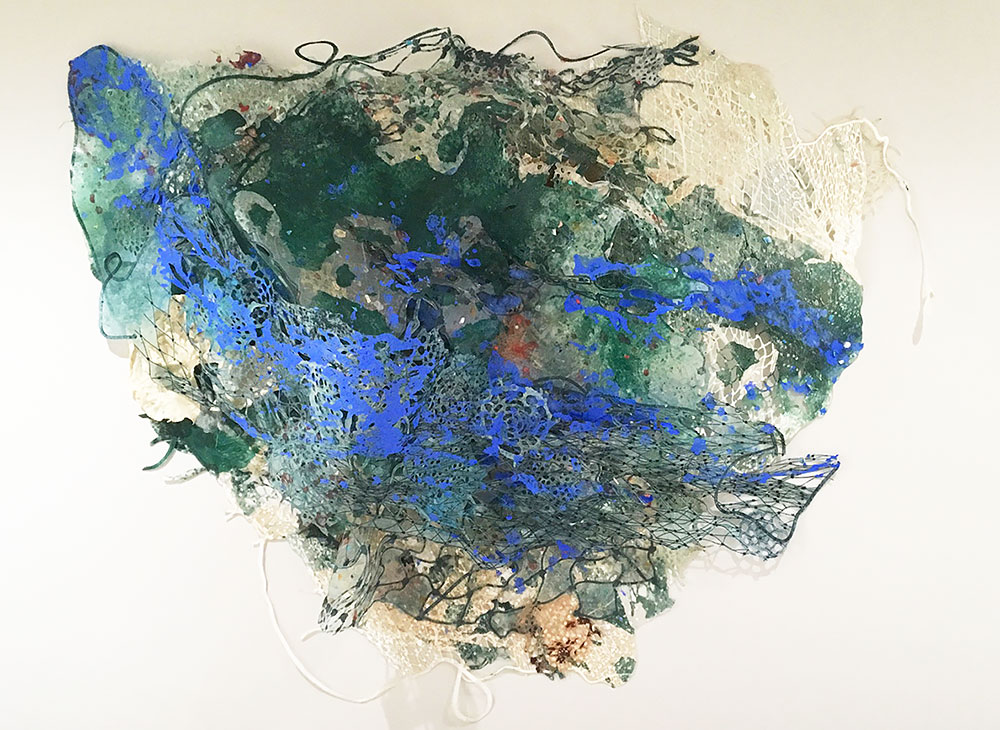 Lighthouse Beach 2015
48″ x 72″ x 15″
if shown as a horizontal.
Handmade paper, made by the artist of kozo and gampi fibers which were hand beaten and then suspended in a slurry to make sheets of paper 60" x 84"
The paper was then printed with collagraph and relief plates and adhered to Mylar.
The papers were then cut by hand and painted with colored paper pulps. There are bits of plastic collaged on the piece that were collected from Lighthouse Beach in the Eleuthera Islands in the Bahamas. At this point the pieces were layered into the collaged sculptural work.
Work is attached by handmade cast glass pins (also designed and made by the artist) and the work can be installed to adapt to the architecture where it is installed. It will go up slightly differently each time.
The work Lighthouse Beach was part of a series of work influenced by my participation in a 5 Gyres Expedition that sailed from Miami to the Eleuthera Islands measuring the amount of plastic we collected with a screen system that filtered out the water. We found bits of micro plastic on the entire passage. While in the Eleuthera Islands we visited one of the most beautiful beaches I have ever seen, a pink beach. But even on this remote island we found plastic all along the beach.
The health of marine life ecosystems and the ailing sea is the stimulus for the visual art that I am creating. Environmental research and advocacy of the ocean is part of my creative process.
Collection of the Nebraska Museum of Art, Kearney, NE