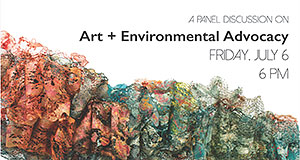 The "Art + Environmental Advocacy" panel discussion presented on July 6th at the Newport Art Museum was the most enlightening advocacy session I have ever attended. That it was launched and cadenced by the monographic art exhibition that surrounded the panelists in the premier Ilgenfritz Gallery of the Museum – the creatively buoyant, instructive and admonitory installation by Joan Hall entitled Sea of Heartbreak – was the immediate and tangible reason. This brave art was both the source and reference for a serious-minded discussion of ocean advocacy.
Hall's suggestively animated artistry was viewed along wide gallery walls and on a shallow circular, centralized, platform of glass vessels and solids. These held variegated sands harvested from over 70 beaches nationally and worldwide, the latter, a collaboration with Benny Giguere of Gather Glass Studio called The Greening of our Beaches. Handmade papermaking, blown glass vessels, including glass cast with marine debris, remarkable colorism, the glass and sand, were Hall's extraordinary means processed to highlight the unravelling of marine life ecosystems, without at all surrendering art to message. How enormously rare this artmaking is, where emotion and intellect combine into a unique modality. With emotional resonance stemming from the visual, Hall's art stimulates us to understand the highly charged truths about the ailing sea, yet without political assault, without casting us adrift.
For Hall, a longtime sailor, the observant experience of voyaging on the sea is integrated personally and vigorously into an aesthetic for which environmental research and activism are co-expressions. The never diminishing role of pollution from increasingly minute presence of plastics in ocean waters, and their scaliness as they adhere dangerously to keels, the visible algae bloom and coral reefs beset by excessive ocean temperatures—all were part of the experience that propelled Hall's making and the evidence in the Newport discussion. Probing questions by RI Public Radio environmental reporter Avory Brookins encouraged the elaboration of expertise from the artist, from the Congressional level via longtime environmental champion and regulatory policy maker Rhode Island Senator Sheldon Whitehouse, as well as from the local Save the Bay voice of Executive Director Jonathan Stone, a committed environmental educator who has steered Narragansett Bay protections and habitat restorations through legislative victories. Each expert earnestly addressed the successes and persistent challenges in their environmental advocacy and stewardship.
The panel discussion, by being set within the generative and complementary ambience of Joan Hall's exhibition, was crystallized exceptionally. Here, the Senator's relentless work against the machinations of the fossil fuel industry and climate change deniers, and Stone's work as a public educator, could be understood in context, and in depth. What a programmatic model the evening was. Newport provided the Ocean State an outstanding example of art's intensity and uniquely potent role in environmental advocacy.
Judith Tolnick Champa
​​​​​​​Independent Curator + Writer